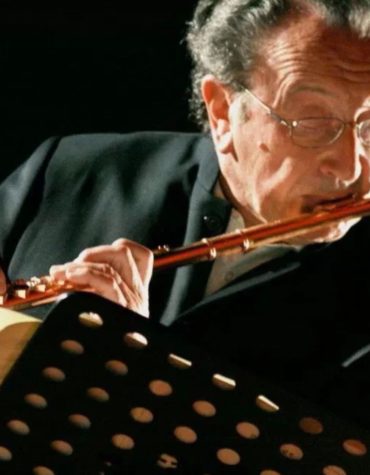 Maxence Larrieu
Maxence Larrieu was born in Marseille on October 27th 1934. He's one of the best representative men of the French flute school. He was taught by Joseph Rampal and belongs to the Rampal's flute school, with Jean-Pierre Rampal and Alain Marion.
He obtains the first flute prize with Gaston Crunelle (1951), and also the chamber music first prize of the National Superior Music College of Paris (1953). He also won the first prize of the international competition of Geneva, and was graduate from the international competition of München (1956).
From 1954 to 1966, he wase a solo flautist for the Comic Opera of Paris, and then for the Paris Opera's orchestra until 1978.
He left this post to follow the virtuoso lesson at the National Music College of Geneva, and also at the National Superior Music College of Lyon.
A lot of composers wrote for him :
— Serge Lancen : Concerto " Monologue " for solo flautist (1962)
— Marcel Landowski : creation in Bordeaux of his "concerto" with Jean-François Paillard's orchestra (1968)
— Jean Rivier : " Voltige " for solo flautist (1970)
— Marc Carles : piece for solo flautist
— Lionel Rogg : suite for solo flautist (1999)
Maxence Larrieu played many times in concert Francis Poulenc's Sonata with the composer. He also recorded at Grange de Meslay "Aubade", by Francis Poulenc, with Sviatoslav Richter and the Jean-François Paillard's chamber orchestra.
Some exceptional concerts :
— All Mozart's concertos, with Clara Haskil playing piano and "Lamoureux Orchestra" directed by Igor Markevitch (1960)
— Norma / Bellini with Maria Callas, Maxence Larrieu was "first flute" of the Paris Opera's orchestra, directed by Georges Prêtre (May / June 1964)
— Ballet show on Vivaldi's music with dancers from Paris' Opera at the Champs-Elysées' theater, organized by Henri-Jacques Coudert (1975)
— "Sequenza I", work of art for solo flautist, creation of a ballet of the Paris' Opera scene with dancers from Paris's Opera under the direction of Luciano Berio (1976)
— The "Brandebourgeois Concertos" at Pleyel Paris auditorium, with Zagreb's and Henryk Szernyng's soloists, under the direction of Antonio Janigro (1980)
He played with the best orchestras of the world (I Musici, English Chamber Orchestra, The Zagreb's soloists…) and especially with Jean-François Paillard's Chamber Orchestra, with who he gave more than five hundred concerts, and recorded about thirty times.
He recorded about a hundred records, more particularly with orchestras from Prague, Munich, Cologne, Monte Carlo, I Musici, "l'Ensemble Instrumental" of France, Orchestra of Sarre, Philharmonic of Turin, and had fifteen "records big prizes".
His concerts and records partners are : Arthur Grumiaux, Rafael Puyana, Bruno Canino, Gabriel Tacchino, Suzanna Mildonian, Maurice André, Jean-Pierre Rampal, Lili Laskine…
He played at Lincoln Center with the Chamber Orchestra of New York, Lili Laskine, Robert Veyron-Lacroix and Maurice André. He's invited to music festivals in Osaka, Montreal, Sydney, Aix-en-Provence, Salzburg, Prague, Bratislava, Roma, Barcelona and Prades.
Since 1964, he's also regularly invited to Japan, Corea, China, USA and all over Europe for master classes (Juilliard school, Yale, Royal Academy of London, Milan, Nice…) and concerts. Maxence Larrieu was a member of the jury for different competitions: Kobé, Carl Nielsen, Munich, Prague and Budapest. He was president of the Jean-Pierre Rampal's competition in 2001.
He's now the artistic leader of the season of concerts at the abbey of "San Futtuoso di Camogli Ligurie", which takes place in July and August every year since 1993.